---
Part 1: A Forensic Look at Arpaio's "9 Points of Forgery"

ay back in 2012, after becoming the guy who wrote the book on Obama's birth certificate – literally – and after dutifully following up on the resulting comments and debates for a year afterward, I publicly retired from commenting on the subject.
By that fall, I felt that just about everything had been said that needed to be. Various people had brought forward a huge number of claims that Barack Obama, the 44th President of the United States, was just not eligible to that office. Other folks, including myself, had given a fair, careful and honest hearing to the mountain of evidence they piled up, and produced carefully thought-through responses that showed clearly that not a single one of these claims held up under honest scrutiny.
Every single allegation they had made to that point – yes, every single one – had been shown to be either baseless, irrelevant, or just plain false.
I even wrote an article summarizing a whopping 118 claims that had failed to hold up under the light of day.
Today, America seems to be once again stumbling through a fog of public confusion, misinformation, and even outright disinformation. This time, it isn't to do with Obama's eligibility. It's a bunch of other things. People argue over them, and they usually get nowhere.
And yet, the truth is out there. And most of the time, even in the case of complicated and controversial issues, it can be known.
This great problem has sparked the creation of a new project – that I'm currently involved with – dedicated to helping all of us quickly tell the difference between truth and all kinds of doubtful stories, on any and every potential topic. It gives people on both sides of any issue the opportunity to compactly make their entire case. It organizes all of the arguments clearly and briefly, points to the evidence, and then lets people make up their own minds.
Concordis.io is designed to be a fair, unbiased, and non-partisan truth engine.
And one of the issues we're mapping out for you is that of Obama's birth certificate.
Because of this, and since I personally never publicly responded to what seem to be the final major claims that Obama's birth certificate is a "forged document," I've decided to finally step forward and openly examine those.
So welcome, my friend, to The Final Forensic Analysis – and (Hopefully) the Final Word – on Obama's Birth Certificate.
Officially, the Final Original Claims of "Forgery" Are In.
Back in December of 2016, Sheriff Joe Arpaio of Maricopa County, Arizona was on his way, reluctantly, out the door. After a series of troublesome issues – not the least of which was being put on trial for criminal contempt of court – Arpaio had lost his reelection bid to opponent Paul Penzone.
On his way out, "Sheriff Joe" held a press conference, in which he once again claimed to have proof positive that Barack Obama's long-form birth certificate is "a 100% forgery, no doubt about it." This was also, he said, the final wrap-up of an epic 5-year investigation.
Arpaio and his assistants, Mike Zullo and Mark Gillar, more or less tossed out all of their previous claims – or at least stopped pushing most of them – and trotted out nine new ones.
This was probably a good move, since their earlier claims had been well debunked, and since it had become known that Arpaio's "Cold Case Posse" seems to have faked some of their key "evidence" in the last major press conference they had held on the subject. (Oops.) I can imagine that it would have been an embarrassment for them if somebody had brought that up.
[Aside: For a fairly long tour of some of that previous destruction of their earlier "forgery" claims, which involved quite a few people other than just myself, you could visit here, here, here, here, here, here, here, here, and here. For an even longer tour, you could spend a few hours or days exploring Kevin Davidson's excellent site.]
By the way, Arpaio and his team never really responded to the charges and the evidence of their wrongdoing. Maybe there wasn't much they could say.
But let's not dwell on the past. Our purpose today is to professionally check and respond to their final claims that they have "proven a forgery."
Now let me be clear: Even at this very late date, if I find any genuine, non-imaginary evidence that Obama's birth certificate is in fact a forgery, I will tell you.
Arpaio has said, again and again, that his goal was "to clear the President" or "to be able to clear the document."
If that was his goal, he's gone about it in a really, really strange way. But… that's what he says. So we'll go with it.
Personally, I didn't begin so charitably. I actually started out in the spring of 2011 just hoping that I could find some good evidence that Obama's birth certificate was in fact forged.
Some of that had to do with the fact that I was a life-long Republican. Some of it had to do with the sheer possibility, even if it was a long shot, of changing history.
And of course it didn't hurt that if I were to succeed, some pretty large form of national fame and fortune would almost certainly follow. At the very least, there might be some help with the college expenses for our six kids.
And so, I searched high and low, and day and night.
I never found any such evidence, in 2011, or in 2012, or at any time up until this week, when I began this fresh evaluation of Arpaio's latest claims.
Now for the sake of full disclosure, I will make it clear that my general outlook on our politics has shifted since I first examined Obama's birth certificate.
In the nine years since I started this journey, I've stopped basing my politics on ideology — and I had been fairly well steeped in the conservative side of this — and started basing it instead on a simple question that I think every one us ought to be asking:
"What's in the best interest of the American People, and the future of our nation?"
Politically, I think that's our key question. So I would describe myself differently today. I don't tend to use ideological terms.
But in any event, my commitment to the truth is still exactly the same. Regardless of whether the truth were to help or hurt any particular side of the political aisle, I'm going to tell you the truth.
Because whatever your political philosophy may be, we are going to be far, far better off if we base our political discourse on truth and reality, than if we don't.

So for this round… well, I'm not going to give the results away up front. I will tell you, though, that this journey has been an entertaining one, and I think you will enjoy the rest of the story.
Why? Because this is a pretty darn interesting little investigation. It has at least two jaw-dropping moments. And besides those, I've also uncovered a really cool new little nugget of discovery that possibly no one has ever really thought about until now.
A new Mystery, that Arpaio and his team brought up. They didn't solve it, but they did bring it up.
And with that Mystery… I will reveal the solution that they and their hired examiners failed to figure out.
So Let's Begin — With Their "9 Points of Forgery."
That's the heart of the matter.
Now they created an official video on this. It's about 8-1/2 minutes long, but let me quickly summarize, as it's pretty straightforward.
In short, they claim that nine different items from the birth certificate of a girl named Johanna Ah'Nee were copied to help create Barack Obama's birth certificate. They call Ah'Nee's birth certificate a "source document" for Obama's.
---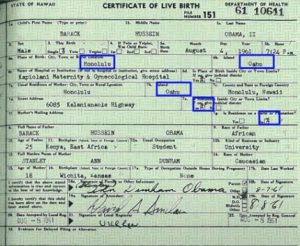 "Points of Forgery" 1 through 5: They claim that five specific items were copied over at one time. These include the words "Honolulu," "Oahu," and "Oahu," and two check boxes with an "X" in them.
You can click any of these images for a bigger view.
---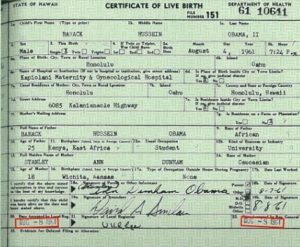 "Points of Forgery" 6 and 7: Each certificate has two date stamps at the bottom — one at the left, and one at the right. Obama's both say "AUG -8 1961," and Ah'Nee's both say "AUG 24 1961." Arpaio and his team claim that the stamps at the left are the exact same angle, and the stamps at the right are the exact same angle. They say this is impossible, so it means that Obama's two date stamps must be copies of Ah'Nee's.
---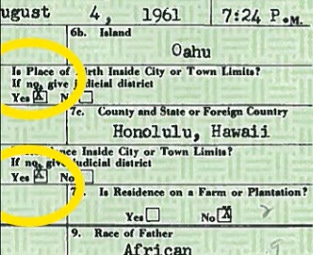 "Points of Forgery" 8 and 9: They claim that ONE of the check boxes from Ah'Nee's certificate was copied over to Obama's TWICE, to create two of the check boxes on Obama's birth certificate.
---
And that's their flagship argument. They make some other claims as well — which we can consider — but this is the heart of it. This is what the major video is on. And this is the major announcement that their entire "five-year investigation" comes down to.
Jaw-Dropping Moment Number One
If you watch the video carefully, and follow it in very close detail, you will likely notice something that first makes you go, "Huh?" and then makes you go "Wait..?" and then makes your jaw drop, and then — in my case at least, explodes into laughter.
At the beginning of the video, they claim that Obama's "7e" check box (with its particular filled-in "X") was created by copying Ah'Nee's corresponding "7e" check box over. This is their "point of forgery" #4.
But at the end of the video, they claim that Obama's "7e" check box was created by copying over Ah'Nee's "6d" check box. This is "point of forgery" #9.
Now Gillar, the narrator in their video, actually calls the "6d" box "6e," but there is no "6e" box, and he's shown clearly enough in the video that he's talking about box "6d."
So — just to make this crystal clear — first they claim Obama's "7e" box is a direct copy of Ah'Nee's "7e" box — and then later in the same video, they claim it's a direct copy of Ah'Nee's "6d" box.
But it can't possibly be both. They've flatly contradicted themselves in their flagship video!
This is all the more astonishing and funny when you consider that they had five long years to get their theory and their final press conference right.
FIVE YEARS!! And they still couldn't produce a conclusion, or a video, in which they didn't directly contradict themselves!!
This is clown-car stuff. This is Keystone Kops.
It's all the more astonishing and funny when you realize that they even show you their own error!
Right in their big press conference.
After the second run-through of the "9 Points of Forgery" video, they show a brief wrap-up video. Mark Gillar says, "Now let's take a look at all the items that were taken from the Ah'Nee document and used to digitally create Obama's long-form birth certificate" (this is at 54:48 in the press conference video).
Count 'em. There are eight of them, not nine.
How did they even manage to produce the video without realizing that they claimed the same item on Obama's certificate was a copy of two different items on Ah'Nee's? This is truly a crack investigative team.
And it's even more jaw-dropping when you realize that in their last major press conference before this one, they also contradicted themselves in their big-reveal video — showing two different tables for race codes (used for federal government birth statistics), all in the same video, that they claimed were both from the very same 1961 document!
In reality, one came from a 1968 document, and the other was from a separate 1969 document.
They were mostly the same, but still had multiple clear differences, because the way they counted statistics on race had changed between 1968 and 1969.
So twice in a row, Arpaio and his team put on major press conferences in which they couldn't even keep their own story straight until the reporters had left the room!
It actually goes deeper than this. This isn't even the worst of it — as we shall see later.
But it's certainly remarkable.
Okay, But Could They Be Right Anyway That One or More of These Items Were Copied?
As funny as all this is, they might still be right in their claim that at least something was copied from Ah'Nee's birth certificate to make Obama's.
So let's take a peek at these one by one.
The Guiding Principle: If Something's a Copy, You Can Usually Tell It By Looking.
I remember many years ago, when digital cameras and video first started to enter the consumer market.
The great thing about digital graphics is that it's so precise. You have an exact value for every single pixel.
No more of the old chemical-based film to fade and change color. No, with digital technology, we know that every particular tiny little pixel is supposed to have exactly this much of red, this much of blue, and this much of green.
And those three colors of light will combine to reproduce any precise color we want pretty much exactly. There may be a tiny bit of natural variation between different screens, but that's it.
Also, if we want to copy one thing to another — we get the exact same results. And you can tell it by looking at it.
Now that isn't to say you can't copy something over and then run it through some process that changes it. You can warp it, you can do wild and crazy effects on it, or you can paint over it entirely if you like.
But if you want evidence that Image B was copied from Image A, then image-wise, they've got to have something in common.
Otherwise, there's no evidence there at all. And it quickly becomes ridiculous to say that this item was copied from that one.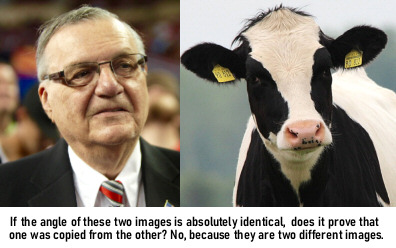 By the way, it doesn't matter if two different items are at the same angle, either.
Even if it's the exact same angle.
Because if they're two entirely different images, then it's clear that they are not copies.
Now this isn't limited just to pictures of different types of things. If we had a photo of a white cow, and one of a brown cow, you could still tell quite easily if someone had done something like start out with the photo of the white cow and then color it brown.
It's pretty clear when two things are or are not the same exact thing, even though they may be the same type of thing.
With that in mind, let's look at these supposedly copied items one by one.
(And by the way, if you have a computer graphics program and know how to use it, it's possible to replicate everything I've done at home if you so choose.)
"Points of Forgery" 1 Through 5
Note that Arpaio and his team did not show you this kind of comparison of images. 
Why not? Perhaps because doing so utterly destroys their claims that these nine items from Ah'Nee's certificate were the source of the corresponding items on Obama's?
Here I'm going to use the best image available of Ah'Nee's certificate, and compare that with the Obama PDF.
But I'm going to go beyond that. Because the highest resolution view of Obama's birth certificate we have is not the PDF file posted on the White House web site.
It's the Associated Press image of Obama's birth certificate.
Now this image isn't remotely new. It was released by the White House the same day as the PDF. I talked about it extensively in my book, which was published before Arpaio's five-year "investigation" even began. 
We can also use the PDF image as well. But as you will see, the AP image is generally of higher quality.
Our first item is the word "Honolulu." Ah'Nee's image is on top. Second is Obama's PDF, and third is the Obama AP image.
Feel free to click on that for a better view.
Look at the "H." It's got more ink, especially at the top right and at the bottom. It doesn't have a gap in it like the Obama one does.
Look at the next letter — the first "o." You can see that it, too, has more ink, especially at the upper right. We could continue with a couple other letters, but that should be enough.
It shouldn't be too difficult to see how a computer algorithm can use a rough approximation to reproduce an image close to what we see at bottom, and get something like what we see in the middle. Bear in mind that the PDF image in the middle wasn't created from the bottom image — instead, they are both different images, with different quality settings, of the same original paper birth certificate.
But you don't digitally copy a "H" with no gap, and get an "H" with a gap, and you don't digitally copy a thick "o" and get a thin one.
It only gets worse from here.
In Item 2, the "O" on Obama's certificate is visibly higher in the Obama images. This kind of "flying capital letter" made by a typewriter is caused by the fact that the typing mechanism wasn't fully shifted to the capital-letter position when the letter was struck.
When you overlay Obama's "Oahu" with Ah'Nee's, the initial capital letters don't even line up!
It also looks visibly different. Once again, Obama's "O" has some thin places. Look at the top of the letter and at its upper right. Also compare the two "u"s in particular. On the Ah'Nee certificate, her "u" is bleeding together at the top.
Clearly, Item #2 on Obama's certificate is not a digital copy of the corresponding one on Ah'Nee's.
---
And the third item is even worse — in fact, it's impossible.
It's impossible, because the "a" on Ah'Nee's certificate is so heavily inked that you can't see the top gap in the letter at all.
Even the gap in the bottom part of that "a" is almost invisible. But the top one is gone completely.
You don't digitally copy an "a" with no gaps and get one with gaps. So there's simply no way that Obama's second "Oahu" is a direct copy of the Ah'Nee one.
---
For items four and five, the X's aren't even in the same place in the box. Once again, this is clown car stuff.
Compare the top images (Ah'Nee) with the bottom ones (Obama).
Of course, if the audience doesn't look closely for these things, they will never know. And Arpaio and company have always had the ability to attract more news coverage and publicity than those who have critically analyzed what they've done.
But Here's the Mystery.
All of that said, they have uncovered a mystery.
Why can you copy "Honolulu," "Oahu," and "Oahu" from Ah'Nee's certificate onto Obama's and have those three words line up almost perfectly?
See the overlaid image below.
Isn't that actually a bit odd?
This was the one thing that puzzled me in going through Arpaio's "9 Points of Forgery." All of the other things have clear answers. But this?
And yes, we know that — assuming both certificates are genuine — they were likely typed up on the same model of typewriter, or quite possibly the exact same machine. So the spacing and line feeds would be the same, or at least extremely close.
But still… why would these three words — and only these three words — line up so… obediently… like that?
This is the thing that stands out most impressively in Arpaio's video.
At first, I thought it was simply that the typewriter had tab stops, and the typist just used those tab stops. But… no, that's not it. If that were the case, a bunch of other things would line right up as well.
Now it turns out that we can identify a really, really good reason for this strange phenomenon. 
Can you guess what it is?
Dwell on it, and we'll come back to it later — especially as there's another bit of mystery just ahead.
"Points of Forgery" 6 and 7 — Are the Date Stamp Angles Identical?
First of all, this is a bit of a nonsense question… because Zullo admits in the video that his colleague Mark Gillar had to first rotate the image in order to get any of these stamps to line up!
Aside from which, even if the date stamp angles were identical, that doesn't matter as long as it's clear that you simply can't get the date stamps on Obama's certificate by copying the date stamps from Ah'Nee's — and as we will see in a moment, that is, in fact, clear. (See also the earlier photo with Arpaio and cow.)
If it isn't the exact same physical stamp that was used on both certificates, it appears to be the same model. But the ink has flowed differently. Compare the "9"s in each case, for example. Then compare the "6"s. Like a picture of one cow and a different cow, it's obviously not the same image.
And of course, the dates aren't even the same.
For this reason, even if the angles on the two stamps were absolutely identical, it would be a very remarkable coincidence, and nothing more.
But are they?
It wouldn't necessarily be surprising if they were very close, but it would be surprising if we checked the angles and came out with a result that those angles are totally identical.
So how might we check whether the angles might be the same?
Well, I can think of a way.
If both angles are identical, then you can line one pair of angles up perfectly, and the other pair will also have to line up exactly.
See right for an illustration of how this works.
Now we don't need to work with all of the form items in between the date stamps, so we'll copy just the date stamps into a new graphic.
We'll make sure that in all cases, we copy them over without rotating anything, so that we perfectly preserve their original angles. Digital graphics will do this with 100% precision.
We'll put the Obama ones on one layer, so that we can move those together. (That's like putting the first triangle on a single transparency, that we can then rotate.)
We'll put the Ah'Nee ones on a second layer, so that the Ah'Nee items — making up her triangle — will also rotate perfectly together.
And then we will rotate one of these layers (it doesn't matter which one) so that the two date stamps on the left are as perfectly aligned as we can get them.
How do we measure whether they're perfectly lined up? Pretty simple. First, we create a rectangular box. We can rotate the box and use it as a guide to the angle. The graphics program will keep the top and bottom of the box perfectly, absolutely parallel to each other.
Once we have the date stamps on the left perfectly aligned with each other, using our box as a guide, then we can create a similar box for the date stamps on the right.
And if all of the date stamps have the exact same angle, then our box on the right will show that.
If they aren't, the box will show that as well.
So that's what I've done below. (Again, you can click for an even bigger view.)
As you can see, the date stamps on the left are now lined up at precisely the same angle, or as close as we can possibly get.
If Arpaio and Zullo's claim is correct, then the date stamps on the right will now have to line up with absolute precision as well.
But note that the bottom of the blue box is not exactly in line with the second Obama date stamp, at the bottom right. See what's happening? That line, which is exactly in line with the one for the top date stamp, is eating right into the lower right portion of the bottom right date stamp.
If we want a line that's the same angle as the bottom right date stamp, we have to draw it in — which I've done, in red.
All of this shows that the angles are not, in fact, the same!
Yes, they're close. But they aren't the same.
So what's the difference in angles? The graphics program will allow us to measure that, too – and pretty precisely. All I have to do is to rotate that red line until it's as exactly parallel with the blue one as I can get it. And the program will tell me how many degrees it takes.
It's about 1.43 degrees of difference.
Is this perfectly precise? Or, to put it another way: If I do the exact same experiment again, will I get the exact same value, right down to the 1/100th of a degree?
Well, probably not. But I will likely get something close.
So I think we can go with approximately 1.43 degrees.

Now 1.43 degrees is a pretty small angle. I've isolated the angle above, so you can get a good feel for it.
But here's the problem. In order for their claim to be true, this angle can't be 1.43 degrees.
It has to be so close to zero that we can't even tell the difference. And it isn't.
And we would also need to get that "indistinguishable from zero" result every time we were to test it.
You see, with digital graphics, you don't copy over one angle and get another one that's clearly different — unless you deliberately rotate something.
And that was their entire point: that the angles were supposedly perfectly identical, without anybody having to rotate any of the stamps.
So even by their own measure, their theory fails.
Still, it does seem a bit odd that the date stamps are so close to the same angle. We know these date stamps weren't digitally copied – we've proven that now. And not one way, but two. First we showed that they weren't copies of each other, and then we showed that they weren't even at the same angle.
But it does seem a bit odd that they're so close to being the same angle.
In fact, let's call that Part B of the Mystery.
So now we have a two-part Mystery.
Why do we have three words that line up very closely on both certificates, and why are the date stamps at such similar angles?
And they're not just at similar angles – they're also placed very similarly in their respective boxes, too.
We'll come back to these questions shortly — because some additional detective work is going to crack the Mystery.
But first, let's quickly wrap up our nine points.
"Points of Forgery" 8 and 9 Fail, Too.
For this, I'm going to use the high-resolution AP image — because the PDF is so blocky that all you can see is pixels. It's so rough and approximate that you really can't tell what's going on.
The illustration shows field 6d from Ah'Nee's certificate (top), and fields 6d and 7e from Obama's. Arpaio and Zullo claim 6d was copied to create both of these.
By the way, that's the same 7e on Obama's certificate that they previously told you was copied from 7e on Ah'Nee's, remember?
All of these are close, but if you look carefully, the first Obama X is definitely lower than Ah'Nee's — there's space between "o" and "X" — and to the left.
And the second Obama X is quite close. But look at the bottom right. It appears to be just a bit further left in the box than Ah'Nee's.
Not to mention: Look at all the space visible between the legs of the X in the bottom box. Now look at the same area of the top X. Once again, you can't copy something that has no gap, and get a gap.
Close, but no cigar.
Utterly Demolished.
And with this, we have completely and utterly demolished Arpaio/ Zullo/ Gillar's theory that "9 points of forgery prove Johanna Ah'Nee's birth certificate was used as a source document to create Obama's."
There's nothing left but a dusty pile of rubble.
But we are still left with our Mystery.
We will uncover another Jaw-Dropper, and solve that Mystery, in Part 2.