This is the 5th and final part of my response to the July 17, 2012 press conference by Sheriff Joe Arpaio ("America's Toughest Sheriff") in which he and his "Cold Case Posse" claimed to have "indisputable proof" that Barack Obama's birth certificate was a "forgery."
This article was actually written back in August, and was intended to be Part FOUR of my response to Arpaio's press conference. However, right when the article was almost finished, Arpaio Posse consultant Garrett Papit turned up here to claim that he had absolutely "proven" the PDF was "tampered with." That was a rabbit-trail that eventually led to this article, which documented the fact that Papit had based much of his "analysis" on technical claims he made that were simply wrong. In addition, it revealed that the PDF had been examined by one of the major inventors of the kind of technology that was used to compress (or "optimize") the President's birth certificate image, and that genuine, world-class expert had seen nothing he would attribute to manual intervention or tampering.
After that, I had pretty well decided to let this almost-finished article simply die. I honestly was not going to publish it. But then an email exchange with Mr. Papit impressed upon me that birthers are going to keep demanding a "demonstration" that innocently reproduces every characteristic of Obama's PDF in detail, and will keep claiming that the lack of such a demonstration is "proof" that the birth certificate is a "forgery."
So this article is still relevant, and I decided to publish it as Part 5, the final part of a series.
Part 1 revealed some important information on what I knew and could document regarding the background of the Arpaio "Posse's" investigation.
Part 2 exposed that Arpaio's posse fabricated their most important evidence and in fact lied to the nation.
Part 3 revealed that not only do the fraudulent codes presented to the public by Arpaio's posse fail to match the real 1961 federal codes, they don't match the 1961 Hawaii statistical codes, either.
And finally, Part 4 (as mentioned above) showed that Papit's foundational technical claims that the PDF was "not possible" to have been created using MRC (or MRC-like) compression were just simply wrong, and revealed that one of the world's top experts in this type of technology saw nothing that really suggested any kind of forgery or "tampering."
The rest of this article, with the exception of the very end which I am having to finish, is pretty much as I wrote it in August.
An Absolute Sham of an "Investigation," From Beginning to End.
Before commenting on Arpaio's "expert analysis," let me state that I find it astonishing that I should even have had to write this response. If any genuine, complete, competent, real investigation had been done, my writing this would never have been necessary.
There are many indications that the Arpaio posse's inquiry was never a professional investigation — from its earliest inception. Whether conceived as such or simply steered that way by birther promoter Corsi, the "investigation" seems to have been nothing more than a witch hunt with a pre-determined conclusion.
Aside from the flat-out fraudulent claims regarding the statistical coding, the only other thing the Posse produced of note was two new "experts" who supported their desired conclusion.
In passing, I'll note that even though they unquestionably knew of me and others (they even mentioned my name during their first press conference) they obviously didn't invite anyone onto the team who wasn't likely to further the witch hunt.
This hand-picking of agreeable authorities would explain their choice of Mr. Garrett Papit. Papit has been a birther now for quite a while. In the past, he's made an entire series of birther assertions that have been shown to be entirely invalid.
For this reason, Mr. Papit's eagerness to reach the Posse's desired conclusions — rather than any track record of accuracy — looks to have been his most important qualification.
Lest you think I'm exaggerating, below is an example of 7 separate birther claims made in the space of just a few hours by Mr. Papit last year. And every single one of those 7 claims had already been debunked as good evidence of Obama's ineligibility prior to the time he made them.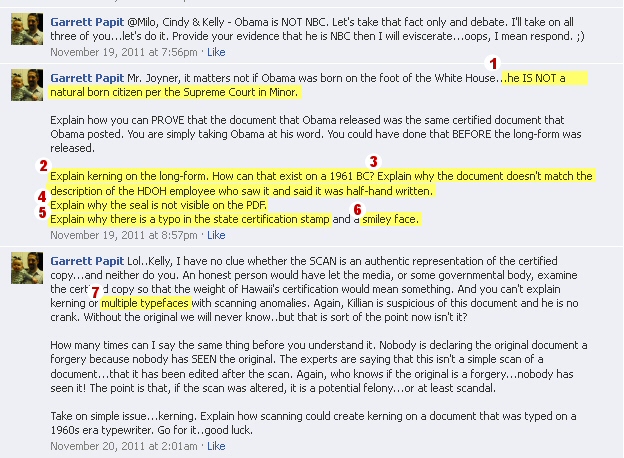 I'm not going to go into detail on each of these, because every one of them has been exhaustively covered already. The falsehood of #1 has been shown both here (several different ways!) and by many other writers. The remaining six points were covered at length in my book, published months prior to Papit's posts.
Now these aren't the only known invalid birther claims that Mr. Papit has bought into and promoted. But seven in a row, on one single page, ought to be enough to show that Mr. Papit — regardless of whether he may do IT stuff for a Fortune 500 company (as he pointed out to me in an email) is not a credible authority on the facts.
And Mr. Papit was their major new "expert witness."
Having said that… I noted earlier that I thought (at the time, at least) that Garrett's work was better than that of some of the other birther "experts." Some of these descend into the downright awful.
So Mr. Papit comes out with yet another birther report — this one's 30 pages — which makes technical arguments that Obama's birth certificate just has to be a hand-created forgery. According to his theory, certain kinds of compression just "can't produce" the effects seen in Obama's birth certificate.
But as I noted in an email to Mr. Papit, since we have known examples of all of the important characteristics of the document (the layers, the color-background-plus-multiple-single-color layers, the to-the-pixel-duplicated characters, and so on) in other files that are known to have been scanned and optimized, that's rather like arguing that black swans can't possibly exist. [Update: As noted, it's now been shown that Papit's major technical claims did not hold water.]
I frankly found their second expert, Tim Selaty, Jr. more credible than Papit. When it comes to basic computer knowledge, Selaty seems quite competent enough. And at this point, I don't doubt his sincerity; although I must confess I've been burned by assuming good motives of birthers before.
In any event, Mr. Selaty didn't even get his paper presented to the public by Arpaio's posse. Instead, it was published at his own site (unforunately, as of 2020, it's no longer available).
Why did Arpaio's posse use Selaty's name but not his paper? I suspect two reasons. First, I suspect they didn't want to reveal Selaty's age. Selaty is about 22 years old, and has no known prior track record of this kind of analysis at all. There's nothing wrong with that in itself; but personally, I've been working with computers since before Selaty was born. So Selaty is hardly the kind of distinguished expert the Posse would like for you to believe. They're basing their claims that the birth certificate of the President of the United States is "indisputably a forgery" on the statement of an unknown 22 year old? Really?
Secondly, while Selaty was generally supportive, his paper seemed to contradict some of the Posse's earlier claims.
Like the claim that the birth certificate is a hand-constructed work of graphic art.
Now I'm not going to do a blow-by-blow against either of these papers, because not only is such a response entirely unnecessary, it's not even appropriate. Both papers were fatally flawed from the very beginning, because the entire approach and methodology used by both authors was wrong from the very start.
Why Their Methodology Is About as Invalid as One Can Even Imagine
Whatever their basic technical competence, I can hardly describe to you how bad, how flawed, how invalid the methodology used by both Garrett Papit and Tim Selaty, Jr. is. And it's the same methodology used by other birther critics of the PDF.
Here is their method, in a nutshell:
Start with the knowledge that any graphics or computer file that can be created, can be created by hand. (This is a true fact, by the way; at least in theory; although in practice it may be a different story.)
Assume that IF Obama's PDF file was created through optimization and other innocent processes, you can find those exact processes, duplicate them, and get results that are really, really close to the original.
Assume that if you fail to find the exact processes that produced Obama's PDF, then the PDF must be a hand-created "forgery." Or — at the very least — that it must have been "tampered with."
Now on the surface, this sounds like a fairly reasonable method. But it isn't.
Let me show you a couple of gigantic flaws here.
The first one seems obvious, at least to me. It assumes that all of the relevant equipment, software and settings that produced the PDF is readily available to you, both in terms of your knowledge of what is out there, and in practical terms. It also assumes that you can test the trillions or quadrillions of possible combinations exhaustively enough (both of their testers ran "more than 600" tests) to find what you're looking for.
Entities like the United States government tend to (let's be frank here) spare no expense when it comes to outfitting themselves. A multi-million-dollar budget for White House IT equipment seems not only plausible, but most likely. I frankly don't have the millions required to buy and test all available multi-million-dollar systems, and I doubt folks like these birther experts do, either. I also know from experience in working with the federal government that the budget is also likely to include custom software as well as modification of commercial software.
So the notion that we can find exactly what software and hardware systems the White House used unless they tell us is a bit unrealistic. To say the least.
The second gigantic flaw is perhaps a bit more subtle, but just as deadly. If not more so.
It has to do with testing one theory and not the other.
Test Only the Theory You Want to "Disprove."
We have two basic ideas of how the file could have been produced:
Theory A: All the characteristics of the file were produced through optimization (or "compression") and other innocent processes, such as a couple of smudges on the scanner glass, maybe somebody adding a clipping mask to clean it up a bit and hide those smudges, and so forth.
Theory B: The file is a hand-created forgery. (Or at least, it was "tampered with.")
Now we propose to test ONE — and ONLY one — of those two theories. And if we can't produce the file by that means, then we will accept that the other theory is correct.
Do you see the hole here big enough to drive a train through?
If you're going to take an approach of demanding that a theory must be able to produce a duplicate, then in order for your approach to be even remotely valid, you have to test BOTH of your theories. Not just one. And you're going to have to do so objectively.
Not to mention exhaustively, which is a very, very tall order.
Why? Well, you're presuming that by ONE theory you ought to be able to produce a duplicate. You can't just assume that they theory you like will produce a duplicate. If you demand that the theory you don't like must be able to produce a duplicate, then you have to also demand the same thing of the theory you DO like.
Now if you're only testing the optimization theory, then you stand a really good chance of simply proving your own ignorance. Because given the unlimited range of possible software that might have produced what you see — including obscure high-end programs, and custom programs whose code and algorithms aren't even publicly available — and given the possibility of some innocent multi-stage process (e.g., it passed innocently through multiple users including multiple operating systems and software packages) there's a really, really good chance that it is simply beyond your scope to determine the exact process.
The Grand Canyon Was "Indisputably" Dug by Native Americans.
Let's make this concrete.
The same method used by Arpaio's Cold Case Posse allows us to easily "prove" that the Grand Canyon was dug by the American Indians.
We go out west. We find this enormous canyon, with a river at the bottom. In many places, the canyon is over a mile deep.
Wow. That's what we call "anomalous." That's really anomalous.
And right away, we can think of two possible theories to explain it.
Theory A: The Grand Canyon was produced by innocent natural processes (erosion by the river?)
Theory B: The Grand Canyon isn't really natural. It must have been hand-dug by somebody, and simply made to look natural.
So let's use the same basic method Arpaio's Posse used on the birth certificate.
First, let's look around and see if rivers ever produce canyons like this one.
We look at the Mississippi River. Nope. No canyon over a mile deep there. Not remotely.
We look at the Amazon. Nope. No canyon there over a mile deep. Not at all.
We look at a bunch of other rivers: The Ohio River, the Tennessee, the St. Lawrence, the Missouri. We look at a bunch of rivers in Europe and Asia.
Not a single one produces a canyon thousands of feet deep.
True, we do find some rivers with canyons (just as Arpaio's posse admitted that optimization does produce layers).
But nothing like this.
Okay. So we proclaim on that basis — tentatively, of course — that rivers simply do not create canyons like the Grand Canyon.
So now that we have eliminated that possibility…
It must have been dug by the Indians. There is "simply no other conclusion."
When our idiotic — I mean invalid — conclusion is challenged, we then go out and find people to "investigate whether it's possible" that a river could have created the Grand Canyon.
Again, we are using the EXACT SAME basic method here as that used by Arpaio's Cold Case Posse.
And those hand-selected experts — because we take care to avoid choosing anyone to be a part of the team who's likely to reach a different conclusion — build models of rivers. We have two experts who each build 600 different models of rivers. They even go so far as to use the same kind of rock found in the Grand Canyon, and to estimate erosion over a long period of time. A particular problem is that rivers just don't cut very deep.
And so our experts, using their methods, are unable to duplicate a Grand Canyon.
It's "conclusive," then! We call a nationwide press conference to announce the news. Voila! By the process of elimination, we have "absolutely," "indisputably" "PROVEN" that the Grand Canyon was dug by the Indians!
Now, do you see the "mistake" we made? Or perhaps — depending on our motives — the sleight of hand that we pulled?
We failed to equally and realistically test the plausibility of our second theory as well.
We failed to apply the same kind of standards in testing whether the Indians could have dug the Grand Canyon. And we assumed that if we couldn't reproduce the first theory, then the second theory "must" be true.
Garbage In, Garbage Out.
A conclusion is only as good as the method used to produce it. And This… One… Is… Garbage.
And this is absolutely nothing new. As I said in my book — published more than a year ago:
To those who would claim that we must duplicate the document using the exact software and settings: Let's try this.

Why don't we take the same standard of proof that you want, and apply it to YOUR theory?

Those who claim that the optimization and clarity-enhancing artifacts mentioned are proofs of forgery have never duplicated the file, either.

So… you produce a credible forgery, working by hand, showing ALL of the characteristics that we see in the Obama birth certificate PDF, AND THAT YOU CLAIM ARE EVIDENCES OF FORGERY.

Every single one…

And once you've finished with that project — once you've successfully duplicated the document — THEN YOU MUST CLEARLY EXPLAIN EXACTLY WHY, AS A FORGER, YOU CHOSE TO DO ALL THAT YOU DID IN PRECISELY THAT WAY.
Oh, It's Been Tried.
I will briefly note that the experiment has been attempted. Ron Polland, a birther from way back, hand-created a "duplicate" of Obama's long form birth certificate that at first glance looked similar. But it lacked many of the known characteristics of Obama's PDF — such as the to-the-pixel duplicated letters. As such, it came nowhere near actually reproducing the document.
And by his own account, it took him five months to create it.
Five months, to hand-create a "duplicate" that wasn't even a duplicate.
And with not the slightest of remotely plausible explanations for why such a "forgery" would have been created in exactly that way, or why those "anomalies" would have been hand-inserted into such a document.
A Far Better Method
There's a far better method of considering the origin of the PDF:
List the theories, list the known characteristics of the file, and evaluate which theory or theories can explain the observed characteristics and which can't.
Such a method will almost certainly produce one of two possible results.
Either we will find that there's more than one theory which can adequately explain what we see, or we will find that one theory passes, and the other one fails.
I have done just that in the table below.
A green "check mark" means that a particular theory is consistent with the observed characteristic. Two check marks mean that the characteristic clearly supports a particular theory, and three check marks mean that the characteristic strongly supports a particular theory.
Likewise, a red "X" means that a particular characteristic does not seem consistent with a theory. Two red X's mean that the characteristic really isn't consistent with the theory, and 3 X's mean that the characteristic can be considered strong evidence against the theory.
PDF Characteristics Versus the Two Possible Explanations
Characteristic of PDF
Forgery Theory
Optimization & Other Innocent Processes Theory
Existence of Layers
Lower quality than AP document
– Would require either two separate forgeries, or some means of transforming — optimizing — the original forgery into the PDF we have.
Existence of Savannah Guthrie photo with seal
Information identical with AP & Guthrie
(as long as we ignore the problems above)
Basic nature of layers: color background, 8 other layers of exactly one color each
Manually created documents almost never have only one color per layer.
– known to exist in scanned, optimized documents
Elements of form scattered over multiple layers
– utterly, totally inexplicable by a forgery theory
– similar effects known to exist in scanned, optimized documents
Letters touching images and lines are grayscaled (or "antialiased"); letters not touching are "bitmapped."
– completely inexplicable by forgery theory
– similar effects known to exist in scanned, optimized documents
Signature split over multiple layers, partly grayscaled, partly bitmapped
– a forger would be insane to do this
Safety paper background
Would have to be scanned
White halo
Very unlikely. A forger or graphic artist would have the safety paper background on its own layer — and it would be pristine, unmarred by bits of other stuff, including the halo. The white halo wouldn't exist.
Seems unusual, but explainable through innocent mechanical processes
White halo separated onto different layer from some letters (bitmapped), but on same layer with some letters from same words (antialiased)
– Why? For heaven's sake, why?
"

Scattered pixels" in background image

Pretty hard to get there this way.
– obvious and known artifact of optimization – this file WAS optimized.
File size
– Shows clearly that the file was optimized, which casts an enormous cloud on this whole theory.
– Proof again that the file was optimized
Difference in scaling
Would be extremely unusual
– identical to effect known to exist in scanned, optimized documents
Form area slightly blurred
Absolutely no reason for this in a forgery
Not an obvious artifact of optimization, but likely explainable by some feature or glitch of the scanner or image processing software
Letters are image of letters, not actual text
— A forger would've had to scan all the letters in — and place them by hand
Precise exact placement of letters
Fonts match fonts from known good certificates
perhaps a slight advantage here, not much
Green stamps
– ludicrous in a forgery
– exactly what we would expect
Apparent lack of chromatic aberration
– if there is in fact an actual, complete lack of chromatic aberration
– slight advantage here, as there is apparently a very small amount of chromatic aberration detectable, exactly as we would expect
To-the-pixel duplicated letters — including those in the form
– absolutely insane from the forgery point of view. There might well have been duplicates in the actual data — but the form would've simply been scanned, and that would've been it.
– STRONG evidence of optimization. This duplicates the same thing seen in files KNOWN to have been merely scanned and optimized, and not hand forged.
Apparent rotation of images
—
— could happen either manually or innocently.
Marks at right, under clipping mask
Claimed to be statistical coding marks — that is, numbers, but not identifiable as numbers
They frankly look like little bits of gunk on the copier glass that got scanned along with the birth certificate.
Presence of clipping mask
Could've been manually placed — but wouldn't show forgery.
May have been mechanical, as left/right and top/bottom margins are identical — unexpected if done manually. Even if done manually, no reason to think it would be anything other than covering smudges
Alleged "kerning"
does not exist
alignment of letters appears authentic
Alleged lack of text curvature
actually, it curves.
slight curvature exists, same as form lines
Use of tab stops
we have no real evidence tab stops were used
we have no real evidence tab stops were used
Official seal
difficult to duplicate by hand
faint, not "overdone;" consistent with authenticity
Certificate number
Consistent with authenticity
Description of document
Consistent with authenticity
The alleged "TXE"
Viewed in AP document, it's clear it's an "H." Consistent with authenticity.
Hospital name
Consistent with authenticity
Name of Kenya
Consistent with authenticity
Father's race
False allegations made by birthers
Consistent with authenticity
Statistical codings
False allegations made by birthers
Not federal, Hawaiian. Awaiting analysis.
Spacing
– A good test, and consistent with authenticity
Inability so far to exactly reproduce document through optimization, etc.
As shown in this article, your inability to exactly reproduce something may simply mean you lack the resources or ability to reproduce it
Inability of birthers to exactly reproduce document — with all of its characteristics — through manual processes — and to explain exactly why they did it that way
— ALL characteristics are plausible via optimization and other innocent processes. Virtually no characteristic of the document is plausible via the forgery theory.
Attestation from Hawaii
There Are Multiple Characteristics Here that Just Don't Occur Naturally in Hand-Produced Graphics Files.
The basis of the crank birther claim that Obama's PDF is "forged" is that it contains "anomalies" that — according to them — do not occur naturally in optimized files.
I say "according to them" because — as demonstrated in the book I wrote on the topic — we have known examples of all of the most important anomalies actually occurring in files that are known to have been scanned and optimized.
What they won't tell you is that this kind of analysis — applied to their own theory — destroys it.
In fact, I would go so far as to say that it is probably not possible to find one single graphics file, hand-produced by anybody, created before April of last year, that contains ANY of the following characteristics… let alone ALL of them at once:
A full-color, JPEG-pre-optimized background, plus multiple graphic layers on top of that which contain precisely one color each
A background form in which letters are scattered, apparently randomly, over multiple layers.
Letters touching images and lines are antialiased; letters not touching are "bitmapped."
A signature is split over multiple layers, partly antialiased, and partly solid-color bitmapped
An original graphics file, containing all the layers used to produce the graphic and all kinds of graphic data over 9 layers, which is roughly the same file size as an optimized JPEG of a graphic the same size (normal, multi-layer graphics files are almost always MUCH larger than similarly-dimensioned optimized JPEGs)
A representation of an official document, in which six different layers of information — intended to be represented as typed information — all appear as varying shades of green (that is, as varying shades of the non-white background color)
A large number of to-the-pixel duplicated bitmapped letters — including such letters in the form! (Let me add here that it is very unusual in a graphics file of this type not to use any antialiased letters to start with. Antialiasing is generally a default setting. And it is simply ludicrous to maintain that the form was "hand-faked" by copying letters one by one.)
These are characteristics that simply do not occur "in the wild" of any kind of normal computer graphic art. And the claim that "the forger was incompetent" is absolutely no excuse. Not even a total newbie, or a complete graphics idiot, would create any of these characteristics.
Indeed, the only two things the forgery theory has going for it are the fact that it has layers (which is no advantage at all) and the fact that non-birthers "haven't duplicated the PDF."
On the other side of the equation — taking the characteristics of the document one by one — we can see that EVERY known characteristic of the PDF is consistent with authenticity.
As we've seen, all of the most important "questionable" characteristics in the PDF are already known to exist in other scanned and optimized files.
In short, the birthers' call to duplicate the document — if applied equally — is utterly disastrous for the forgery theory.
Of course, they will never apply such a standard equally. Because for a birther:
A bald birther assertion equals "proof."
A person accused by a birther is guilty until proven innocent.
Non-birthers must disprove every single birther claim or such claims are automatically true (in spite of a track record of over 100 such claims demonstrated to be without merit, at least 85 of which have been shown to be outright false).
And the requirement to actually prove a claim applies to non-birthers, but never birthers.
Same Conclusion on the PDF As that Reached a Year Ago.
I said it in the book — over a year ago — and the same conclusion holds true today:
Having thoroughly investigated the matter in every respect that we could come up with, we've been able to find no good evidence at all — in regard to the characteristics of the PDF file itself — to support the idea that the file is a hand-built forgery.

Not one single point.

On the contrary, the evidence is pretty overwhelming that the PDF document — far from being hand-built by a human — was simply optimized by the computer.
A year later, there are only two small things I would adjust in that statement.
First, I would include the fact that there may be one or two small characteristics that might be the result of innocent processes that don't fall into the category of optimization. A couple of smudges on the scanning glass. Maybe — though this is far from certain — a small amount of human intervention to add a margin to the document and make it more presentable.
Secondly, I would be more emphatic.
So here is the edited statement, a year later:
The evidence is overwhelming that the PDF document — far from being hand-built by a human — is the result of normal and innocent duplicating and presentation processes. By far, the most significant of these is optimization.
Finally: Arpaio's So-Called "Investigation" Was a Crime Against the Dignity and Authority of Legitimate Law Enforcement Investigation.
As far as I can see, such an "investigation" — including its fraudulent claims regarding the 1961 statistical manual — can only have happened through outright corruption, gross incompetence, or some combination of the two.
Law enforcement agencies have a responsibility to ferret out wrongdoing. But they also have a responsibility not to trump up charges, not to engage in witch hunts, and to have genuine probable cause before making either arrests or public accusations.
Whether Sheriff Joe Arpaio possesses any technical competence of his own is irrelevant. If he was going to sponsor an investigation, Mr. Arpaio had an obligation to make sure it was accurately and professionally done, and that the results would reflect reality — rather than brushing aside the competent evidence, merely to parrot birther fantasies.