I hope the birther readers of my blog will forgive me for stating the obvious when I use the term "idiocy" — but frankly, after more than a year, I am finally about running out of patience for the ludicrous claims that have been repeatedly made by birthers, and are still being made — and all apparently with a straight face.
As regular readers know, I am currently endeavoring to wrap up this blog. Right now I'm working on the blog's final article, which I keep hoping to post "in a few days." And of course, the whole thing has gotten longer and more involved than originally envisioned. But it's coming. Soon. I promise.
In the meantime, when somebody publicly posts something this unfathomably stupid, which takes literally only a few minutes to completely debunk, and uses it as a basis to publicly accuse someone else of a very serious federal crime, it's pretty difficult to just sit and remain silent.
One wonders also exactly how well the author of this garbage would like to be publicly and falsely accused, in a high-profile internet article, of a serious federal crime.
An article posted a few days ago at BirtherReport.com makes the claim that NBC reporter Savannah Guthrie is "complicit" in the mythical White House "forgery" of President Barack Obama's birth certificate. The claim is based on the supposed misspelling of the word "Hawaii" in one of Savannah Guthrie's photos of the birth certificate. The following image is provided as "proof." The claim here is that the word "Hawaii" is misspelled in Guthrie's photo (bottom), while it isn't misspelled in the two other images we have of Obama's birth certificate.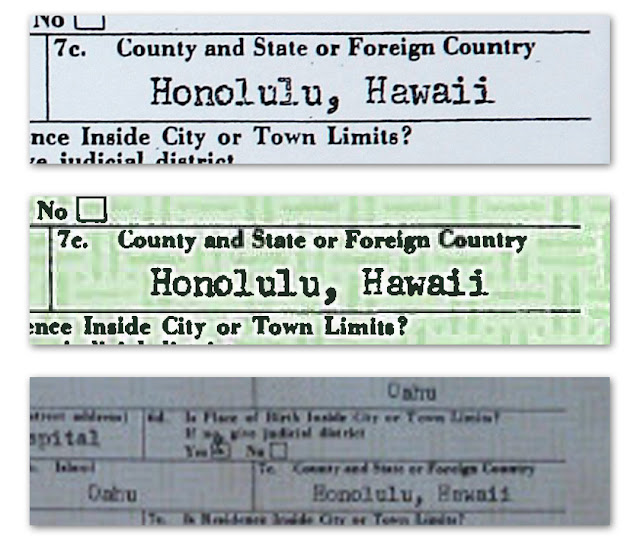 Well, gosh. It does kinda look like it's spelled "Huwaii" in the last image, doesn't it? Wow. The White House and NBC reporter Savannah Guthrie caught red-handed in a fraudulent conspiracy to put one over on the American public! That's it! Arrest the President — and that fraud Savannah Guthrie as well.
Except the bottom image isn't the original image. It has been altered by a computer graphics program — in this case, one guesses it's probably Photoshop, since that's the program the author of this article uses. Or possibly some other program, if the image was magnified before doing a screen capture.
In either case, here's the original image, with no alteration made to it except for cropping it to about the same area shown above:

Hmm. Umm… well. That doesn't really look quite as compelling, does it? Although it does still look kinda like a "u", even there. If you get up close and squint.
Well, let's try enlarging it again — except this time, accurately.
As anybody who works with graphics ought to know, whenever you enlarge an image using a graphics program, there are various options for how to process the image. The program that I personally use gives no less than 5 options for how to process or "resample" the image.
All but one of these changes the image.
Graphics Programs "Smooth" Enlarged Images So They Won't Look Blocky
There's a reason why a graphics program changes a small image that you make really big. If it doesn't, then you end up seeing the pixels of the enlarged image in your end result. So the program tries to essentially guess, based on its machine intelligence, how to smooth things out so that you won't end up with a blocky image.
If you have enough pixels in the image to start with, then your end result can still be fairly accurate as to the original.
But if your original image is based on very few pixels — that's a problem, particularly when (as we will see in a moment) some random noise has been introduced into the image.
Here's just the word "Hawaii," enlarged by my own graphics program using the default settings — which, again, try to make the image "prettier" for human beings to look at:
Now let's look at the image enlarged the RIGHT way, preserving its original information intact: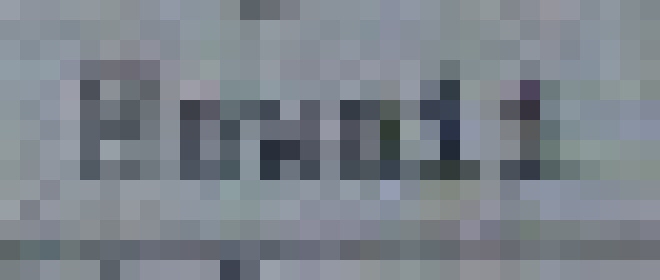 That's it, folks. That's ALL the information that Savannah Guthrie's camera actually gives us. A grand total of TWELVE pixels for each of the letters "a."
And there really ain't that much difference between the first "a" and the second one, except that the curve of the first "a" is a bit lighter. It could easily have been the other way around.
Look at that first letter "a." Does it look like a "u" now?
Now would you publicly accuse somebody of a very serious federal crime on the basis of those twelve pixels — or actually, on the basis of one or two pixels, and then claim that those one or two pixels are "PROOF" that person took part in a fraudulent criminal conspiracy — since that's what the claim really comes down to?
But it gets worse. MUCH worse.
The Starting Image Contains Random Noise Caused by Optimization.
Even the image that we have — the one that Guthrie posted on the web — has been altered (innocently) in a way that introduces a certain amount of random noise.
Standard practice before posting an image on the web is to optimize that image. Optimization cuts down on the amount of information that has to be downloaded by visitors to a web site, but it does so in a way that leaves it reasonably viewable by your audience.
The standard format for photos on the web is JPEG. It's been around a LONG time, and it is used in the vast majority of photos you see on the internet.
Whenever you optimize a JPEG image, it introduces some random noise. In fact, you can almost always see some of this random noise right around letters of text, in an image that has been JPEG-optimized.
Below is the relevant section of Guthrie's photo, again, enlarged ACCURATELY from the original image: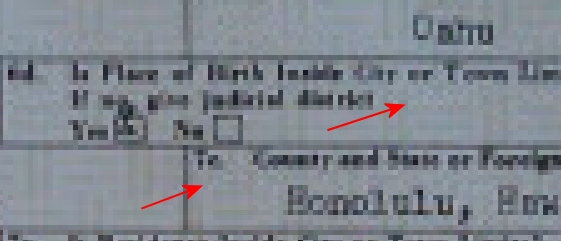 You can clearly see the "scattered pixels" that come from JPEG optimization of the image — all over the place. But (as is perfectly normal) they don't appear everywhere. They are around ALL of the letters. They are absent from the top 60% or so of the box at the upper left, but present in the lower 40% or so. They are almost entirely absent from the box at the lower left.
It is important to note that this randomization does not only affect the pixels around the text in the image. To a lesser degree and depending on the strength of the optimization used, it affects the text itself as well.
So even the one or two pixels that Zebest has, on which she is building a case of federal fraud, and which — even if the image is "accurate" — seem to show nothing more than the curve of the a — are not reliable in their shade values!
And when the actual text in the photo is this tiny — relying on just one or two pixels to represent a significant difference in a character — the way a letter looks is particularly susceptible to any amount of such noise.
And that noise may come not only from the optimization. There's a definite possibility we have additional noise from the variations in the safety paper background, a speck of dust on the piece of paper, and maybe some other factor as well.
In fact, if you want to see how much variance you can get in the pixels, take another look at the accurate enlargement we did — noting particularly how widely the pixels vary in their shade in the other letters besides that a. They vary a lot.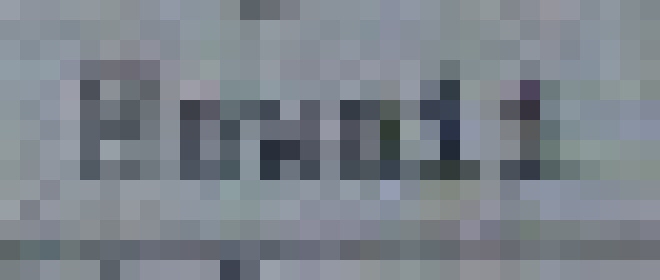 I Was Frankly Shocked to Read the Author's Name.
All of this is pretty basic graphics. There's nothing at all advanced here. This is Graphics 101.
That's why I was frankly shocked to read that the author of this article was Mara Zebest, who has collaborated on books about Photoshop, and who claims to be a graphics "expert." In fact, she's the most visible graphics "expert" the birthers seem to have.
She is also, apparently, the foundational "graphics expert" behind the claims made by Sheriff Joe Arpaio's Cold Case Posse that Mr. Obama's birth certificate is a "forgery."
Ms. Zebest's previous claims of "proof of forgery" have been reviewed and found invalid by myself and a number of other commentators. In fact, virtually every claim made by Sheriff Joe's Cold Case Posse back in March had been previously debunked, either by myself or by other writers.
But even if that were not the case, the level of sheer incompetence displayed in this one article — presuming here an innocent motive — would be enough to disqualify the writer of such an article, in my opinion, from being regarded afterward as a credible evaluator of the evidence in any serious forum.
It is simply inexcusable to make such charges based on an image that any graphics professional should know has been altered by enlargement and the noise of optimization.
In fact, this particular author is known to have in her possession (or at least to have had in her possession, earlier this year) a copy of my book on the Obama forgery theories which very clearly demonstrates, on pages 29 and 30, that the Guthrie photos are identical in all observable particulars (information present, precise placement of the letters, etc.) to the Associated Press image that she now claims this photo is different from.
If Ms. Zebest would like to give a response to this commentary, I am happy to have it here. Unfortunately, I really can't imagine any way that this travesty of an article can be justified.
---
[Note: The original title of this article said, "Mara Zebest Claims that Savannah Guthrie 'Proves She's Complicit'… Rereading the article, I am not sure whether the top headline, "Savannah Guthrie Further Proves She's Complicit: Hawaii Spelled Huwaii on Obama's Birth Certificate," was added by Ms. Zebest or (more likely) by somebody at BirtherReport.com. In the interest of accuracy, therefore, I have changed the title to read, "Article from Mara Zebest Claims…" And I believe that's accurate. Zebest herself implies that Savannah Guthrie is complicit in a crime, in the following statements:
"…the cropped version conveniently—and perhaps purposefully—centers oddly on information that…"

"After all, who are you going to believe, Savannah Guthrie or your lying eyes?"
Finally, regardless of exactly who put the top headline on, the article itself is still inexcusable.]