[To start at the very beginning, click here.]
What Color Is the Sky?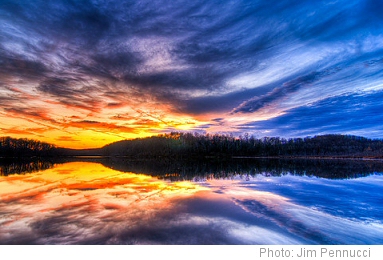 In October 2008, Leo Donofrio filed a lawsuit alleging that Barack Obama, as the son of a Kenyan (and therefore British) father, was Constitutionally ineligible to be President of the United States.
That December, the US Supreme Court declined, without comment, to hear the case.
Since then, there's been a lot of publicity (on the internet, at least) around the claim that it takes two citizen parents at the time of a person's birth for that person to be a natural born citizen.
The claim, however, was like saying that the sky was orange: It flew directly in the face of what most Americans thought they knew about the natural born citizen clause.
The understanding of most people is that the sky is blue. Yes, there might sometimes be some other colors up in the sky — the white of clouds, or the orange, yellow or pink colors of sunset. But fundamentally, the sky is blue. That, at least, is our accepted belief.
This is very like the common understanding of "natural born citizen." The government, the media, and our school textbooks all tell us that if you were born in the United States, then you are a natural born citizen; and that any kid born in American can one day grow up to be President.
It can sometimes be healthy, though, to challenge assumptions, and to test the conventional wisdom. Sometimes we find out new things when we do.
Maybe there's a lot more to physics than old Sir Isaac Newton thought there was. Maybe man can build machines that fly after all.
Maybe the sky is orange.
But believing such a thing — that a heavier-than-air flying machine is possible, at a time when only balloons have ever flown before, or that the sky is orange, or that there is life on the moon or Mars — requires some compelling evidence.
Getting a Big Picture
You might possibly have noticed that throughout this series of posts, I've included a little block of color in the headline of each section. And, you may have noticed that some of these blocks have varied in color.
Those blocks represent what that particular piece of evidence seems to say. Here's what those colors actually mean:

Clear evidence for the conventional understanding — against the 2-citizen-parent claim


Some evidence in favor of the conventional understanding


No real evidence either way


Some evidence in favor of the two-citizen-parent claim


Clear evidence in favor of the two citizen parent claim
The little blocks serve two purposes. First, they will let you go back and compare your own assessment of a particular bit of evidence with mine. And secondly, they will help us summarize the vast body of historical evidence and visualize an overall picture.
A Historical Picture, Rather Than a Legal One
When we speak of "evidence" here, it's important to note that we are not necessarily talking about evidence regarding the legal definition of the term "natural born citizen."
Legally speaking, any real argument has been settled — as Congressional Research Service attorney Jack Maskell notes, for more than a century.
First, Minor v Happersett clearly does not say what some have claimed it says. We know this for a variety of good reasons. In this blog, I myself have given no less than five.
And US v Wong Kim Ark (1898) quite clearly established that persons born in the situation of our current President are indeed natural born citizens, and therefore eligible to the Presidency.
So legally, the issue was settled 114 years ago. This is the ultimate reason why every case birthers bring on this issue is absolutely, 100% doomed to fail. (Incidentally, if you've been financially supporting any of these lawsuits, it is of benefit to you to understand this. You are quite literally throwing your money away.)
A fairly extensive analysis of the legal meaning of "natural born citizen" is available through this blog's posts on legal authorities and case law.
But maybe the courts have been wrong? Maybe Americans have always understood "natural born citizen" to mean something else?
That is why we have taken an in-depth look at the historical meaning of the term.
Having done that, we are now prepared to take a "big picture" look at the historical evidence of what Americans have always understood the term to mean.
The Scales of History
We have carefully examined 41 different pieces of evidence. If we should give them all equal weight, they would look like this:
Ignore, if you will, the stack of irrelevancies in the middle, and focus on the real evidence to the left and to the right.
Rather lopsided, isn't it?
The only historical events we have found that weigh in birthers' favor are the opinions of Alexander Porter Morse (orange) and Breckinridge Long (light orange), and the fact that the US State Department sometimes denied passports, in the late 1800s, to persons born on US soil of non-citizen parents who had removed them in childhood to other countries.
Some other historical events have been claimed to weigh in the birthers' favor — such as Minor v Happersett — have been found completely wanting.
The above illustration, however, presumes that all items are worth equal weight. But this is not the case. Let's compare the sum total of our "pro-birther" evidence to just ONE of the bits of evidence — that is, just ONE of the 19 solid blue blocks at left — that weigh AGAINST their claim:
The above diagram compares the opinions of Alexander Porter Morse, Breckinridge Long, and the presumed opinions of several Secretaries of State to the single list of known quotes regarding natural born citizenship and Presidential eligibility from legal authorities.
And once again, this is still an uneven, charitable comparison! I haven't attempted to add in any of the "blue" opinions of Secretaries of State (such as William Evarts and undoubtedly many others) or the policies of Secretaries of State since Perkins v Elg.
And I'm counting the opinions of Morse and Long as if they were equal with those of many more highly distinguished and recognized legal experts, including Justices of the US Supreme Court.
We have many highly authoritative sources — including some who speak in the list of quotes represented above, and some who don't — that indicate that citizen parents are not and never were necessary for a person born on US soil to be a natural born citizen. These include, for example:
Philip Mazzei, close friend and neighbor of Thomas Jefferson
the Marquis de Lafayette, "natural born citizen forever" and personal friend of our first six Presidents
St. George Tucker and his authoritative comparison of American and English law
the lack of any known quotes indicating the necessity of citizen parents, or of reference to Vattel, during the entire lifetime of the Founders or Framers
the authoritative word of early legal expert and friend of Ben Franklin, William Rawle
comments by esteemed Supreme Court Justice Joseph Story
a comprehensive analysis of centuries of law by Judge Sandford in the case of Lynch v Clarke
the proud campaign literature of the first Republican Presidential candidate and son of a Frenchman, John Charles Frémont
the clear analysis and word of the US Supreme Court in US v Wong Kim Ark
the quotes mentioned from 62 different legal experts throughout American history
quotes from several hundred other sources that reveal the popular understanding throughout history
and a virtually absolute lack of any quotes that legitimately and in context claim or even imply a birther definition.
Elsewhere, in fact, I've estimated the total number of known book quotes, prior to 2008, that give evidence against the citizen-parents claim as being approximately 395, and the number of known "book quotes" giving evidence that could legitimately be said to be in favor of the claim — Morse's book and Long's newspaper article — as being 2.
In short, the evidence stands overwhelmingly against the two-citizen-parent claim, not only from a legal perspective, but also from a historical perspective as well.
We have only the personal opinions of Morse and Long, spoken a century after the Founding, as well as some implied evidence from several US Secretaries of State (from the same era as Morse and Long) — against a veritable mountain of historical evidence spanning the entire course of American history, that "natural born citizen" does not and never did mean what the birthers claim.
A Non-Partisan Conclusion
That Barack Obama, born in Hawaii to an American mother and a Kenyan father, is Constitutionally eligible to be President is not a partisan conclusion; nor is it one that simply benefits Democrats.
As we've seen, the first Republican Presidential candidate in history — John Charles Frémont — was in very much the same situation as Barack Obama. So, too, was Republican Presidential candidate Charles Evans Hughes.
Today the Republican Party has interesting candidates in Marco Rubio, Bobby Jindal and Nikki Haley. They aren't the Republican Party's only candidates, by any means. But we would be worse off without the possibility that one or another of these home-grown, American individuals might become a future President.
The birthers have done no one any favors. Not the Republicans. Not the Democrats. Not the American public. Not the Constitution. And not the Founding Fathers.
The Sky Is Still Blue
Some reading this article undoubtedly will have hoped that we would find the sky, as alleged in birther mythology, to be orange.
But it isn't. The very few small bits of orange in the sky are merely the reflection of the sun going down on the two-citizen-parent claim.
Let's return to the quote that we began this article with:
"…historically a 'natural born Citizen' had only one definition, i.e., a child born in the country to citizen parents. There never has been any other definition."
It is quite true that historically, the term "natural born citizen" has only ever had one definition.
But the claim that that definition requires citizen parents for persons born in the United States is false — to the point of total, absolute absurdity.
It could hardly be more false. It's about as false as publicly claiming that car windshields are made from heat-treated sugar water, that Bozo the Clown invented the internet, or that 2 plus 2 equals 17.
And an accurate historical evaluation is perfectly in harmony with the legal reality.
For a person born on US soil, it does not — and never did — require citizen parents for that person to be a natural born citizen.

Thanks to the Readers, Participants, and Contributors of This Blog
This post completes a 14-month, thorough evaluation of the claims of the birther movement.
That evaluation began by looking into claims of "proof of forgery." It continued with an investigation of the legal claims of the birther movement and the status of actual US law. And it has ended with a complete tour of the meaning of "natural born citizen" in the light of history.
In the course of that evaluation, I have written and published one book — on the forgery claims — and also published, here, more than enough material for a second book.
This has been this blog's final post, and it's time for me to move on to other things. I would like to thank all — both birthers and anti-birthers — who have read, participated or otherwise contributed to this blog.
For any readers who appreciate having been told the truth and would be willing to make a financial contribution to help offset the enormous cost of time, energy and effort over the past 14 months that this blog has taken, any such contribution would be welcome and will be put to good use.
Again, thanks — and I wish all of you — yes, even the birthers — the best.
John Woodman