---
The 1961 manual Arpaio's Posse claimed to have has been found. And it completely contradicts everything they claimed it said.
So why won't Arpaio's office either produce their supposed evidence or publicly retract their claims? Because doing so would be admitting they've been caught in a major fraud. That's why.
Sheriff Joe Arpaio ("America's Toughest Sheriff," Maricopa County, Arizona) has been widely criticized for his "birther" investigation claiming that President Obama's birth certificate is a forgery. And his "Cold Case Posse" has been widely portrayed as inept.
But the evidence clearly shows that Arpaio's Posse goes well beyond the "inept" — into the downright fraudulent.
For some important background, see: Statement Regarding Sheriff Joe Arpaio's July 17, 2012 Press Conference: Part 1
Arpaio and His Posse Based Their Most "Solid" Claim on a 1961 Manual They Claimed to Have, And Obviously Didn't — But Which They Showed the World Faked Images Of Nonetheless.
Arpaio's posse was clear and unambiguous in claiming that they had the 1961 Vital Statistics Instruction Manual from the US government, and that that manual backed their claim Obama's birth certificate was a forgery.
Listen to them claim to have this 1961 "Code Book," and the 1961 Hawaii codes, too:
Mark Gillar, in the official video presented on July 17: "In order to decipher these codes, the Cold Case Posse obtained information from the 1961 Vital Statistics Instructions Manual for births. Please note that the number '9' was the code used to indicate that an answer to a particular question was 'not stated.'"
Jerome Corsi, July 18, Peter Boyles show: "In the 1961 code book, which we worked for months to get ahold of — we finally found it — uh, '9' means not reported or not stated."
Michael Zullo, July 18, KABC Interview: "Number '9' — and we have the documentation to prove it from 1961 — that signifies information was not presented, or unknown or not stated."
Michael Zullo, July 18, Peter Boyles show: "The number 9 for the federal code, and the number 9 per the State of Hawaii's own statistical code, means 'information not provided' or 'information not stated.'"
Jerome Corsi, July 19, Peter Boyles show: "We've got the documentation. We're just going to release it over the next little bit of time. But [in] the original code book in 1961, if the race of the father was not listed or not recorded or not stated, that was coded number '9.' You wrote that in by hand, number '9.'"
From the official video, prepared and narrated by Mark Gillar: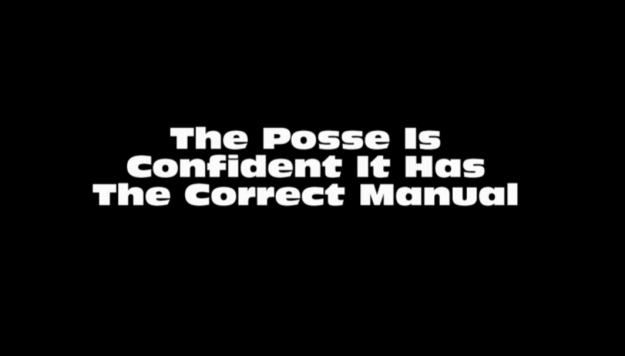 Mark Gillar, July 18 (Comment posted as "TeaPartyPowerHour" at the official video): "We have the 1961 manual… We have the V.K.L. recording and the manual. Only a few left in the US. Hard to get."
"Hard to get," indeed — as we shall soon see.
Let's See What They Presented to the World As Being Supposedly From Their "1961 Vital Statistics Instruction Manual".
The following images "morph" from the images they presented, to the originals that they took them from. You may find it easier to view the images if you click on them to display them on a separate page, and then return to the article.
The first falsified image from the official video: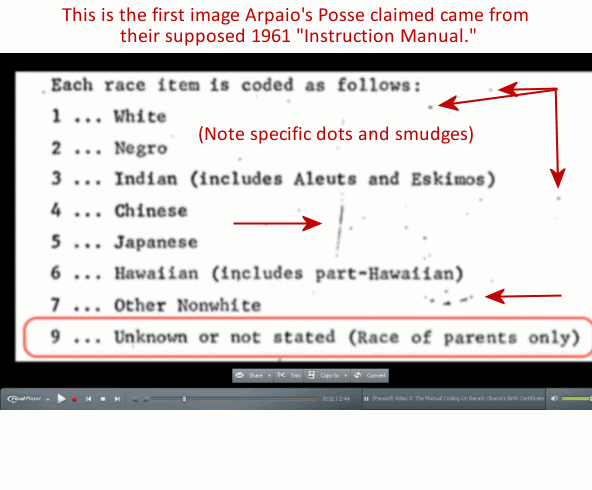 Want the actual 1968 source that this came from? Here it is, sourced from the web site of the National Bureau of Economic Research.
And the page that they pulled their graphic from quite clearly says, at the top of the page:

If you have this document, there's simply no way that you can miss that it's from 1968 — not 1961.
The second falsified image from the official video: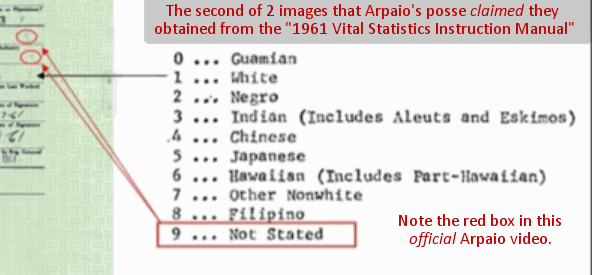 This one is even more rich. In spite of their claims to the contrary, they didn't even get this one from the US government, or any government web site! They plagiarized it right out of a discredited article from birther web site "The Daily Pen."
In fact, the Posse's "we have the 1961 manual" claim was originally made by the Daily Pen in the same article that the Posse stole the graphic from. And the claim was already proven to be a fraud last March.
Incidentally, we can find a copy of the original 1969 US government document this image was fraudulently taken from over here. The source, again, is the web site of the National Bureau of Economic Research.
The Actual Manual Has Been Found. And It Directly and Absolutely Contradicts What Arpaio's Posse Claimed it Said.
Since the United States Department of Health and Human Services told blogger Kevin Davidson — and he asked them twice — that they thought this particular manual no longer existed, the Posse may have been confident it could pull off this little scam without being held accountable for it. All they had to do was just not show the imaginary manual. Right?
Unfortunately for them, blogger ladysforest (who doesn't even believe Obama is eligible!) asked a different government office, and was able to turn up a copy of the real manual.
According to the real 1961 Vital Statistics Instruction Manual and the closely-related tape specifications, the parents' races weren't even coded for the federal statistics. They were simply looked at and then used to determine the race of the child, which was coded for US statistics. The mother's place of birth was also recorded — but only as "native," "foreign" or "unknown."
So that's another false claim made by Arpaio's posse, who apparently didn't even have the 1961 manual.
And if they did, they obviously lied about what it said.
Below is an image from the real 1961 manual, showing the only race codes it has. Again, these are codes for the race of the child. And while some determination of parents' races was made — in order to code the child's race — that data was not coded by the feds.
By the way, as you can clearly see, "9" isn't "not reported or not stated." It's "other nonwhite," which (according to the manual's instructions) actually happens to be how Obama's father's race would've been classified.
You can download the complete general instructions part of the manual here.
But that's not even the full extent of how far the posse's claims are from reality… because — as we are about to see — that particular manual isn't even a key to the penciled statistical codes on Obama's birth certificate at all!
Actually, the States Didn't Even Have to Do ANY Statistical Coding to Report Their Data to the Federal Government in 1961.
Instead, they sent the US government all of their actual birth records on microfilm, and the statistics information was both classified and transferred to punch cards by workers who referred directly to the actual, microfilmed birth certificates. From page 5-3 of the US government's 1961 report on birth statistics:
With the exceptions noted in the next paragraph [which didn't include Hawaii], natality [that is, birth] tabulations for 1961 are based on information obtained from microfilm copies of the original certificates. These copies were received from the registration offices of all States, certain cities, the District of Columbia, Puerto Rico, and the Virgin Islands. The statistical information on these records was edited, classified, placed on punchcards, and tabulated in the National Vital Statistics Division (NVSD).
Here's Where They Likely Change Their Story and Start Claiming, "Actually, Those Were State Codes, and It's the State of Hawaii Manual We Have."
But this story won't fly, either.
First of all, they've already quite clearly claimed it was a very specific federal code book they had — the "1961 Vital Statistics Instruction Manual" — so the lie is on record for all time.
Secondly, they've publicly mourned a complete "lack of cooperation" for their birther "investigation" from the Hawaii Department of Health.
And third:
The "Hawaii Girl" Certificate Establishes that the Real Hawaii Codes in 1961 Weren't What They Showed You, Either.
In September of last year, WorldNetDaily published a Hawaii birth certificate from a baby girl born in August of 1961.
I subsequently caught them scrubbing information from their site that contradicted and destroyed one of their major conspiracy theory claims.
That claim was that the certificate number on Obama's birth certificate was "out of sequence." I was alerted by a reader that WorldNetDaily had changed the images of the birth certificate, for no apparent reason. Curious to find out why, I fished the original images out of Google's cache, and was able, by enhancing the image of the back of the certificate, to read the certificate number.
And that certificate number completely destroyed the claim that Obama's certificate number was "out of sequence."
The "certificate number problem" claim was based in turn on a clearly and indisputably false claim made publicly by Jerome Corsi, that Charles Bennett, Hawaii's Registrar General, said that "birth certificates were numbered upon acceptance by the registrar-general, and there was no provision that would allow an accepted birth certificate to be put in a pile for three days before a number was stamped on it."
By the way — I don't think I've ever mentioned this publicly before, but in the new image they substituted onto the site, they specifically and deliberately copied a section of safety paper from the bottom of the certificate over the upper left corner, in order to hide the certificate number.
So they went to pains to cover up the certificate number — which contains no personally identifying information — but left enough personal information visible that I and others were able to figure out exactly whose birth certificate it was.
Odd, that.
To give you yet another idea of the honesty level of the Cold Case Posse, in last week's press conference, they even repeated the debunked "certificate number is proof of fraud" claim — even though it was known and verified to be false last autumn, and no new information has emerged to change that. WorldNetDaily hid "Hawaii Girl's" certificate number of 61-09945 last fall — after Jerome Corsi brought her certificate to the world and verified that it was genuine — and Corsi and the Cold Case Posse are hiding it now, in order to keep claiming that Obama's birth certificate is "out of sequence."
"Hawaii Girl" Came From a Hawaiian/ Asian Family.
Of interest to us now is the coding on what I call the "Hawaii girl" birth certificate.
The race fields for mother and father both have the number "3" written by them. According to the supposed codes from Jerome Corsi, Mark Gillar and the Cold Case Posse, this means that both parents were supposedly (American) Indians.
But they weren't.
Online genealogical information indicates that "Hawaii Girl's" mother was born to a (mostly) Hawaiian father and a mother with a Korean surname. [Note: I have now spoken directly and personally with "Hawaii Girl" herself to confirm her background, and deciphered her parents' race entries — see my next article!]
Her father has a Hawaiian middle name, and a last name of Chinese origin.
There's no sign of any American Indians anywhere — let alone on both sides of the family.
Lies, Lies, and More Lies
In the course of the past fourteen months, I have personally investigated something well beyond 60 different significant birther claims that President Barack Obama is ineligible to his office.
These include the claims that his birth certificate is a "forgery," and also the claims that it takes citizen parents to be a natural born citizen.
Out of all that huge mountain of claims, I have never found even one single significant birther claim that actually stood up to scrutiny.
Simply put, there is plenty of evidence that Barack Obama was born in Honolulu, Hawaii in 1961.
Likewise, the evidence is simply and utterly overwhelming that "natural born citizen" means pretty much what everybody always thought it meant. And Barack Obama, born in the United States, is perfectly eligible from a Constitutional, legal and historical point of view to be President of the United States.
So if you don't like him, do as I will be doing in November, and vote for somebody else.
In the meantime, there is more than enough evidence for any reasonable person to conclude that the birther movement is not just based on misconceptions, mistakes, or "production errors" — as Mark Gillar so eloquently termed the presentation of the second fraudulent image in his video.
It's a scam from beginning to end. And it's a scam — for the most part — on conservatives.
This evidence includes:
Corsi's known false statement about Charles Bennett's 1955 article
the long list of 23 claims in a row, published in my book, that Corsi peddled to the public that don't hold water
the fact that Corsi and WND have never retracted his false statement about Bennett or the disproven "certificate number fraud" theory
Loren Collins' discovery that one of Corsi's articles was plagiarized from British news sources
the fact that Joseph Farah and Corsi and WorldNetDaily practically covered up all of the contrary evidence that I sent them in August of last year
the fact that they DID cover up the "Hawaii Girl's" birth certificate number
the most recent lies from the Cold Case Posse
and the very long list of transparently false claims made by Mario Apuzzo, Leo Donofrio and others, documented here and elsewhere, to the effect that it takes two citizen parents to be a natural born citizen.
The inevitable conclusion, for any rational person who acquaints himself or herself with the evidence, is that the birther movement is not a mistake. It's a scam. And while there may have been some honest mistakes on the part of some in the beginning, it is now based on nothing more than lies, lies, and more lies.
---
Response from Mark Gillar, Producer of the Posse's Official Video
After an extensive email discussion with Mark Gillar, producer of the official video which contains the falsified images, Mr. Gillar stated that he received all materials and the script from Mr. Zullo of the Cold Case Posse and had no editorial control. A direct request to the Cold Case Posse for a copy of the "1961 Vital Statistics Instruction Manual" resulted in no reply.
Blogger and internet radio host "Reality Check" also reports that he engaged in a series of email contacts with Jerome Corsi. He states that Corsi provided no further evidence to back his claims. He has since issued a written challenge to Corsi and Zullo to produce the documentation they claimed to have.
---
Update — The Cover-Up Continues: Jerome Corsi has responded to calls for the Posse to show the manual they claimed to have by making excuses as to why they won't produce it, and by making additional false claims regarding those who've asked them to do so.
Jerome Corsi appeared this week in a YouTube video intended to rally the birther faithful. In that video, he characterizes those calling for the Cold Case Posse to back up their claims as wanting some kind of inside window into the investigation — and as asking for all kinds of different documents. He claims that people who have asked for the evidence have "lost their mind." He also indicates that the Posse won't back up their fabricated claim; and he makes excuses as to why.
At around the 8 minute mark, Corsi says:
"August is still gonna be a research month. You're gonna find Sheriff Arpaio's group is gonna get increasingly closed-mouthed about the evidence that's been created. It's not gonna be released. The Obots are dying to find out what Sheriff Arpaio has, they're going nuts over on various Obot websites, demanding we show this, demanding that the investigation produce another document, this document, I mean, they're, they've lost their mind."
Of course, anybody who doesn't believe the fabricated evidence produced by Corsi and the Posse — including folks who are supporting Romney, like myself — is an "Obot" — an "Obama robot."
The key thing here is the excuse Corsi makes for not backing up their clearly fabricated claim. And note the interesting wording Corsi uses to describe the Posse's evidence:
"August is still gonna be a research month. You're gonna find Sheriff Arpaio's group is gonna get increasingly closed-mouthed about the evidence that's been created."
The evidence that's been created? I always thought evidence was uncovered, or discovered, or revealed. Or maybe found. The word "created" would not normally seem to fit into that particular place — at all.
Unless, of course, evidence actually has been created.
Which we now know it has.
Click here to continue to Part 3 of this series.