Today I talked to "Hawaii Girl," the owner of the birth certificate posted by WorldNetDaily last year which destroyed their claim that President Obama's birth certificate number was "out of sequence" and therefore "proof of forgery."
You can get a sense of the kind of person someone is by talking to him or her. I was extremely impressed with "Hawaii Girl."
Let me ask of persons reading this blog: If you should know who "Hawaii Girl" is (and a few people do) please do not publicly mention her name, or contact her about her birth certificate.
She does not want to be a part of any controversy, and she doesn't want or need any disruption in her life. She is busy with her work and her family. She frankly does not know much or care much about Mr. Obama's birth certificate. She has no "dog in this race."
She was willing to have one conversation, and gave generously of her time to do so. But she does not want to talk any further about her birth certificate. And at the moment she has some additional personal things that require her time, attention and emotional energy. So please respect her privacy and emotional space.
If you must call me a liar and claim that I never spoke to her, then go right ahead. Attack me, but please leave this nice woman alone.
In fact, after talking to "Hawaii Girl," I debated about whether I should mention the conversation at all. In the end, I weighed the odds of other people contacting her if I said nothing — based on questions already raised — versus my making public that I had spoken to her and asking people specifically to respect her wishes. After my conversation with "Hawaii Girl," I am hoping that everyone will honor that request. It is really her request, and I am supporting her in it.
If you absolutely must contact someone about this birth certificate, then contact Jerome Corsi — and ask him to release an image of ONLY the small section of that birth certificate that shows the parents' race — without disclosing any further personal information about "Hawaii Girl." We will be able to tell based on the image that I present here whether what Corsi releases is authentic or not.
Why Nobody Actually Needs to Bother "Hawaii Girl," In Any Event
In this article, I will also give good evidence as to why nobody needs to bother "Hawaii Girl" at all.
I think we have plenty of information to authenticate that her birth certificate does not say "Indian," or anything that would be classified "Indian," as would be the case if the Posse's codes matched those from Hawaii in 1961.
You see, both sets of codes from the Posse (which are really 1968 and 1969 federal codes, and of course not from the 1961 manual that they claimed) say that "3" means (American) "Indian."
If "Hawaii Girl's" parents aren't Indians, then, it's clear that the race codes presented by Arpaio's posse can't be the Hawaiian state codes for 1961 either.
Before moving on to the evidence: I also want to go on record as saying that I completely believe that what "Hawaii Girl" did in making her birth certificate available to Corsi (and therefore through him to WorldNetDaily) was 100% honorable, admirable and commendable. I wholeheartedly believe that she acted completely in good faith, having no partisan agenda, in order to honor the request of a friend, and to provide some useful information to someone she had no reason to think she couldn't trust.
I can also tell you that it did not sound to me like she expected any portion of her certificate to be published. She has not followed the issue and seemed surprised to hear from me about it.
The Extreme Unlikelihood (1 out of Almost 1,500) that This Certificate Would Have Listed the Parents as "Indians"
It's already been proven that the codes presented by Sheriff Arpaio's posse were NOT the federal codes that they claimed they were. So let's entertain the idea instead that the codes they showed were accurate for the State of Hawaii. Yes, I know that's unlikely, given that we know where they came from — 1968 and 1969 federal codes, nowhere near 1961 — but let's entertain the idea anyway.
This would mean (according to their chart) that "Hawaii Girl's" parents, both with a penciled code of "3," would've both had to be "Indians." And she would've had to be Indian, too.
The US government reported (Table 2-4) that a grand total of 12 children — out of 17,616 born in Hawaii in 1961 — were "Indian."
Therefore, given a random Hawaii birth certificate from that year — such as "Hawaii Girl's" — we could expect only 1 chance out of 1,468 of getting one in which the parents' race was "Indian."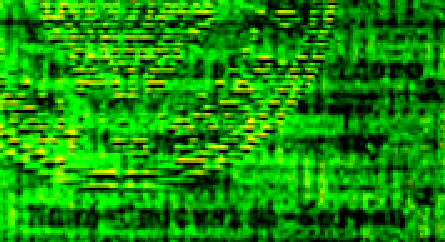 But a glance at this enhanced image extracted from the WorldNetDaily image of the back of "Hawaii Girl's" certificate — and showing the subtle bleed-through — shows that whatever the her parents' race entries is, they are quite long in both cases. They are not short and sweet, like "Indian" or even "Navajo."
The mother's race is the bottom line of text; and the father's race is the top line, mostly obscured by the seal. Can you read it? I tried last fall, and couldn't make it out.
Still, based on what we can see on the certificate itself, it does not appear at all likely that her parents were Indians. Certainly, neither race says "Indian," or any obvious Native American tribe that comes to mind. Both are way too long.
Jerome Corsi: Please Give "Hawaii Girl's" Birth Certificate Back.
"Hawaii Girl" mentioned that she had loaned her birth certificate to Jerome Corsi last year, at the request of a friend. This was with the understanding that Corsi was going to use it to compare to other known birth certificates, and that she would be getting it back.
She has twice requested its return — probably through her friend who asked her if she would loan it — but Mr. Corsi has not returned the certificate.
This is the only copy of her long form birth certificate that "Hawaii Girl" possesses. It is her valuable personal property, and Hawaii Department of Health rules now make it very difficult to get a replacement. It is an intensely personal document, and I would expect it has some emotional value to her.
"Hawaii Girl" herself seemed rather resigned to the fact that in spite of Corsi's promises, and in spite of the fact that the certificate is hers, she won't be getting it back any time soon.
Now I don't want to create any hassles whatsoever for "Hawaii Girl." But I do think that "Hawaii Girl's" friend should quietly get Mr. Corsi to return the certificate to "Hawaii Girl," without "Hawaii Girl" having to be at all further involved.
So why am I telling you this? Mostly to let you know why I was unable to obtain an image of her parents' race. I think "Hawaii Girl" would probably have been willing to provide that for us, but Corsi has her certificate.
I Previously Identified "Hawaii Girl's" Mom as Having Hawaiian and Korean Roots, and Her Dad as Having Hawaiian and Chinese Roots.
Actually, I had also identified an Anglo ancestor in her mother's background as well, but I didn't mention that publicly, so we won't count that.
In any event, "Hawaii Girl" was able to be even more specific. She stated that her mother's background was "Hawaiian / Korean / German / English," and her father's background was "Hawaiian / Chinese / Portuguese." I had not known about the German and Portuguese parts.
Cracking the Race Entries on "Hawaii Girl's" Certificate
Even armed with this knowledge, I must confess that the race entries eluded me for a little while longer. What "Hawaii Girl" had told me seemed even longer than what was there. And the father's race in particular had always seemed virtually hopeless, being obscured by the seal except for the last few letters.
I had already decided, even before speaking to "Hawaii Girl," that the last word of her mother's race (bottom line) was likely to be "Korean." And it almost looked as if the first part was "Hawaiian," except… that just wasn't right. It certainly looked like there was an "ian" before the presumed "Korean." But for the first part to be "Hawaiian," the letters simply did not fit.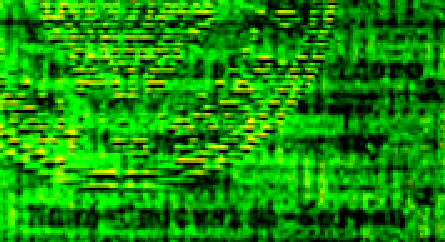 And there seemed to be no "German" or "English" in the mix at all.
And then, staring at the certificate, it hit me.
"German" is much more of a nationality than it is a race. And generally speaking, Germans are…
Caucasian.
Using a fixed-width font (since that's what the typewriter had) to check the spacing on the letters, and assuming that what looked like a very short word starting with "H" was an abbreviation for "Hawaiian" (since spelling out all three words would run the typist completely out of the box) gives us: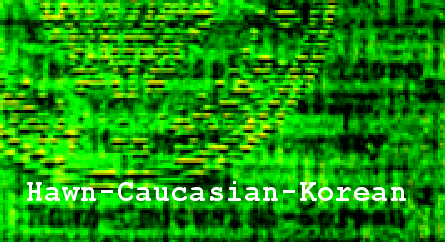 Bingo! Compare it, letter for letter, white versus black. This very clearly appears to be the correct solution to the puzzle.
Cracking the Father's Race
I immediately surmised that if I had reached the correct solution on the mother's race, then her father's race would likely have been recorded as "Hawn-Caucasian-Chinese."
The obvious test was to type that phrase, using the exact same fixed font and spacing, and see if the letters fit.
Being careful to align the left edge, this gave: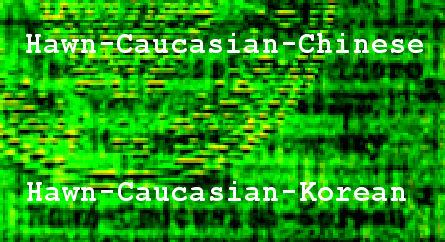 And the puzzle is busted! When you carefully compare the letters "i,n,e,s,e," you can see that they do indeed match. And the entire phrase is the exact length we would expect if the father's race is "Hawn-Caucasian-Chinese."
So the race entries on "Hawaii Girl's" certificate almost certainly say "Hawn-Caucasian-Chinese" for her father, and "Hawn-Caucasian-Korean" for her mother.
Does This Mean the Cold Case Posse Lied About the Hawaii Codes?
In my previous article, I quoted Cold Case Posse Lead Investigator Michael Zullo as having said: ""The number 9 for the federal code, and the number 9 per the State of Hawaii's own statistical code, means 'information not provided' or 'information not stated.'"
The short answer is: The evidence presented is not enough to establish conclusively that the Posse lied about the Hawaii codes.
However, they have made a clear claim that "9" in the Hawaii codes meant "not stated." And we know at this point that they did lie about the federal codes.
We have also established that the 1968/ 1969 federal codes they presented are not, overall, an accurate representation of the 1961 Hawaii codes. If they had been, then the codes on "Hawaii Girl's" certificate would have both been "6" (Hawaiian/ part Hawaiian) rather than "3."
Finally, we know that they have claimed to have received pretty much zero cooperation for their birther investigation from the authorities in Hawaii. And we also know that they did not produce any set of codes claimed to be from Hawaii.
Given that they flat-out lied about the federal codes, I'd say it's pretty clear at this point that they can't be trusted regarding any Hawaii ones.
---
Note: I originally referred to this person as "New Girl." I have edited the article to reflect my newer name for her — "Hawaii Girl." If you see "New Girl" mentioned in some of the comments below, it's all the same person.
Note, Again: Some time after I wrote this post, "Hawaii Girl's" birth certificate was publicly leaked, along with her full identity. (Sorry, Johanna, I did all I could to keep you anonymous!)
The publication of Hawaii Girl's birth certificate 100% confirmed the detective work I had done in this article. Her father's race is indeed listed as "Hawn-Caucasian-Chinese," and her mother's race is given as "Hawn-Caucasian-Korean."
---
Click here to continue to Part 4 of this series of articles.