Stanley Ann was soooo excited! At 18, she was going on her very first trip, all alone, as an adult. And it wasn't just to the big island of Hawaii. It was to East Africa!
Her parents had been less than thrilled when she told them of her plans. "But honey," her Dad had objected. "Just for the airfare alone, the cost of this trip is SIX MONTHS' worth of income… and that's for ME! Where are you going to come up with all of that money?"
"Well, Dad…" she batted her eyelashes. "I thought you might help me. Just a little bit."
"Well…" her Dad looked doubtful. "How much do you have so far towards the trip?"
"Eighteen dollars and ninety-three cents," she replied proudly.
"Well, that's a start. But honey –" her Mom interrupted. "You're seven months pregnant. You'll be close to nine months for this trip. Don't you think you ought to stay a little closer to home?"
"Oh, Mom! That's the very best part!" Stanley Ann exclaimed. "Two can travel for the price of one. And someday I can tell my baby that he made a trip to Africa and back while he was in my tummy!"
"But what if you have to give birth in Africa? This IS your firstborn child, you know."
"Oh, Mom…" Stanley Ann rolled her eyes. "Are you going to tell me that East Africa isn't just as advanced as Honolulu? Come on, Mom. This is 1961! ALL the girls want to give birth in African hospitals these days. It's like a status symbol. Everybody's doing it."
"Well…" her Mom looked doubtful.
It had taken a bit more persuasion, but her Dad had finally agreed to give her the money, and her Mom made her promise she would go to the city hospital rather than give birth in a hut in a village. It was the argument that the trip would be educational as well as fun that had done the trick for Dad. He would just work 60 hours a week for the next year, instead of his usual 40, to make up for the cost of the trip. In the end, he was happy to do it. "She is 18 now, after all," he said to her Mom.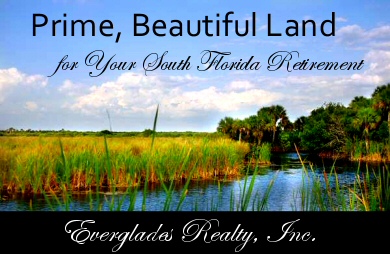 But when she'd told her new husband, Barack didn't understand.
"Ann," he said. "You know that I'm in school this entire session and I can't take this trip with you. Besides, I don't want to. Don't you know that I have a wife back in Kenya? This could be troublesome. I don't think you want to do this. Besides, where will you get the money?"
"Oh, it's all arranged!" she replied. "And I can't wait to meet your family!"
"Well… why don't you wait until some time when I can come with you? And why don't you wait until AFTER the baby is born? That will not be long. That would make a great deal more sense, you know."
"Don't be silly, Barack. I want to go now!"
"Okay. Well, I'll contact my stepmother for you. In Africa, women are always happy to have a stepson's wife come and stay in their home for a couple of weeks. Even if they've never met the woman before."
And so she had hopped on the plane. At 8-1/2 months pregnant, she was having a bit of difficulty getting around, but it would be all right. Weighing an extra 30 pounds seemed to somehow energize her. And everyone was soooo helpful.
She left Honolulu at 930 am on Wednesday, July 12th. It was fun to fly over the ocean. Since she was traveling east on a 707, the time seemed to fly by. They even landed in San Francisco a bit early, at 5:25 pm. She had about a 6-1/2 hour layover in the airport, but Ann didn't mind. There was a nice old lady that she talked to for nearly an hour.
By the time Ann's plane left for New York around midnight, she was feeling a bit tired. Fortunately, the airplane seats were comfortable and she promptly dozed off.
"Breakfast!" said the stewardess. Ann opened her eyes. She had only gotten four hours of off-and-on sleep — it was about 7 am Thursday morning on the East Coast, and the plane was getting close to New York. But oddly, she felt refreshed. "I'll have orange juice with mine!" she said to the stewardess.
When the plane landed in New York, all passengers had to get off for a while. It would be an hour and a half before the trip across her second ocean.
She made London about 10 o'clock on Thursday night. There had been a slight delay in taking off. By the time she got through Customs and Immigration, it was 11:30 pm. But Daddy had sprung for a hotel in London, so she found a taxi. England was exciting!
Since Stanley Ann's flight to Africa didn't leave until after 3pm on Friday, she was able to sleep in the next morning. When she could sleep, due to the jet lag. She also got to see a little bit of London — not much, but enough to give her a taste of the place.
Get the inside details on what could be the most serious constitutional crisis in our nation's history in "Slitted Eyes: The Case That Barack Obama is a Reptilian Alien Overlord From Alpha Draconis!"
By 7:15 Friday night, Ann was in Rome. Her airplane made Khartoum, in Sudan, about 4 o'clock the next morning. She was awake during this time because her body was so confused over the time change. Never mind. She'd get used to it.
She had breakfast before they landed at the Entebbe airport — where was that? Uganda? Stanley Ann dozed off when she could, and tried to get some decent sleep.
Finally, at noon on Saturday — Nairobi!
It was one o'clock when she finally got through Immigration — and there she was! Mama Sarah, her husband's stepmother, waiting for her at the airport, just like she had said she would!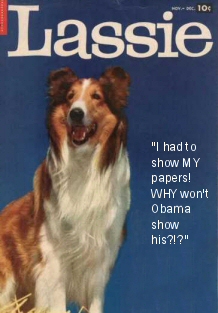 "So how was your trip, honey?" Mama Sarah asked, in flawless English. "We are soooo excited to see you! I mean, we've never met you before. And you're awfully white. But if my stepson Barack likes you, we do too!"
"So how far is it to Kogelo?" Ann asked.
"Oh, don't worry, honey," Mama Sarah reassured her. It's only about 200 miles. And there's a new bus that goes direct!"
And what a great trip the entire visit was. A whirlwind tour of relatives she'd never met! And Barack's other wife seemed nice, too, and didn't seem to mind that her husband was having a baby with Ann.
And then the labor pains. Oh, my gosh! That was intense. And the 200-mile drive back to Nariobi, to give birth… They had managed to persuade a missionary to drive her. What an adventure! But there were places where the road was pretty good. So they made decent time. It only took about 7 hours. Much shorter, and nicer, than the bus ride up, with all the crazy driving, the stops and starts in African villages, the clucking chickens, and the little girl throwing up in the seat behind her…
And then, of course, inevitably, came the day to return to Honolulu. How she would miss Africa! And the trip seemed a bit long, with a days-old baby.
But once again, everyone was helpful. And this time it only took 3 days, instead of 4! Baby Barack was so good. He slept most of the time, and hardly ever cried.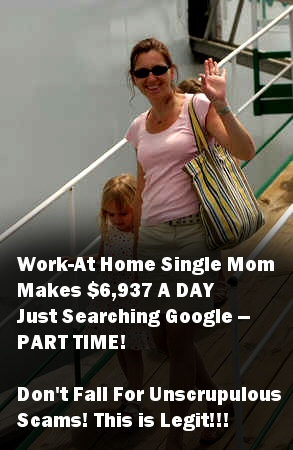 And when the plane at last touched down in Honolulu, there was her husband, and her parents, at the airport to meet her. She would want a Hawaiian birth certificate for the baby, of course. But her parents knew a baby doctor — Dr. Sinclair — who would write one out for her. Falsifying that shouldn't be a problem. Oh, and they were also friends with an English teacher at the high school, who would say that she remembered the birth if there were any problems.
"How was your trip, honey?" Barack asked. "And hey! Let me see my baby. Let me see my son!"
He smiled, and the three of them swarmed happily around her.
---
* This story is absolutely "True," in the Birther sense of the word — that is, it supports the Birther belief system, without any regard whatsoever for whether it is factual, in line with reality, or has any likelihood whatsoever of having actually happened. The story has already won several distinguished awards from very, very important authorities, and has been used to fuel an infinite improbability drive for a starship run from Earth to Vega.
Update: "American Mzungu" gives some personal insight into travel in Africa, in this post over at ObamaConspiracy.org.
Note:  See also the first comment, below, for a bit more serious discussion about why the idea of Stanley Ann Dunham Obama traveling to Kenya and giving birth to her son there is so far-fetched as to be nothing more than a political fantasy.